Acme Acres is the fictional city where Tiny Toon Adventures takes place. All of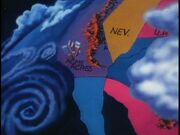 the characters live there, with the exception of Gogo Dodo. It is also the location of
Acme Looniversity
.
The actual location of Acme Acres doesn't seem to be firmly defined, as it has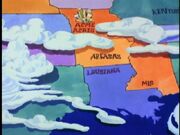 been shown in multiple locations in various episodes, but it appears to be most commonly placed in California. In both the cartoon, "Cross Country Kitty" and in the Tiny Toon movie, "How I Spent My Vacation,' it is shown in California, probably near Los Angeles.
However, in the cartoon, "Never Too Late To Loon," it is shown as residing somewhere in Missouri. There is also another reference in the Spring Break Special that puts Acme Acres approximately 1000 miles from Ft. Lauderdale, Florida along Interstate 95, which follows the eastern coastline of the United States. This would put Acme Acres somewhere near Philadelphia, Pennsylvania, or possibly New York City, New York. Also, in the Christmas special, it was shown to snow in Acme Acres.