Betty Barrett (also known as Atomic Betty) is the main protagonist of her show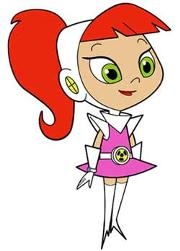 Atomic Betty and is one of the Hubsquad's female members.She is also one of Strawberry's "berry best friends!"
Personality
Edit
Betty is smart, cute, friendly, funny, strong willed tomboy, charming, and is a very independent young girl with highly eccentric interests, and is not afraid to speak her mind on any subject. She also has a bit of a temper, and can get easily annoyed, which shows during certain moments, such as in the episode Shake Your Booga, when she was called for a mission during a party, and imagined yelling at DeGill that Chaz asked her to dance. On Earth, she likes listening to music, reading her science fiction comics, popping an ollie on her skateboard, hanging with her best friends Noah, Regeena, and Paloma or daydreaming about her crush, Chaz. In space, she loves protecting the galaxy with her crew, flying in her starcruiser and karate chopping treacherous galactic super-villains. In the episode Attack of the Evil Baby, Betty was afraid to get her tooth out when she went to the dentist with her mother.
Betty represents the Element of Beauty in the Elements of Teamwork when she generously gave a lonely queen who is blocking the way to the tower that holds the legendary Elements of Teamwork with sharp deadly thorns with a bouquet of red sweet scented roses.
Lief
Dennis
Strawberry Shortcake
Robbie Shippton
Yawp and Dander
Lucky
Twilight Sparkle
Blythe
Sparky
X-5
Noah Parker
Chaz Lang (Love Interest)