Dander,like his best friend,Yawp,are the characters of The Twisted Whiskers Show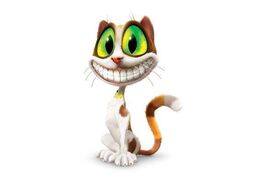 and are the members of the Hub Squad.
Personality
Edit
Dander the cat is used to the good life. Food. Water. A litter box. And as soon as he leaves his little kitty cat world, he gets into trouble. He and his pal Yawp are always trying to find their way home from some adventure or other.
He and Yawp both represent the element of humor in the Elements of Teamwork when they make a gloomy gatekeeper who guards the gate to the Elements of Teamwork Tower laugh.
Lief
Dennis
Betty Barrett
Strawberry Shortcake
Robbie Shippton
Lucky
Twilight Sparkle
Komodo
Rex
Unicorn
Mouse
Sasquatch
Yawp