Lief is the main character of Deltora Quest and Hubsquad;Teamwork is Magic. He is also the King of Deltora (after his father, Eden) and the leader of the Hub Squad.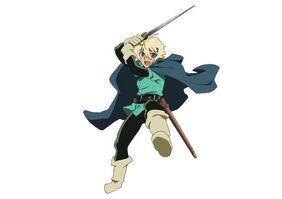 Appearance
Edit
At the start of the series, Lief is the son of a blacksmith who lives in the run down city of Del. He is (as Barda describes him) "a young hot-head" and spends his time roaming the streets and both tempting and dodging trouble. On his 16th birthday he leaves Del on his father's quest to find the magical gems missing from the Belt of Deltora and the heir destined to wear it. Lief is tempted in many ways and by the end of the first series he has grown not only in bravery and strength, but also in wisdom and patience. Lief is very courageous and extremely trustworthy. A few times he considers giving up the quest, but the thought of his friends or allies suffering always helps him to continue. The second series sees the characters questioning their trust of one another as they plot to save the slaves in the Shadowlands. In the third series, Lief and friends once more quest around Deltora, awakening the ancient dragons which help him destroy the Sisters of the North, South, East and West. In the eighth book, it is told that Lief's hair is dark. It is implied in Isle of the Dead that he is at least eighteen. During the second series, Lief and Jasmine's romantic feelings for each other become more pronounced, and at the end of the third series, they get married and have three children, a daughter named Anna after Jasmine's mother and twin sons called Jarred after Jasmine's father and Endon after Lief's father, the previous King of Deltora.
Lief represents the element of teamwork in the powerful Elements of Teamwork to defeat the evil Nightmarina,the evil ballerina who wants to drown all of Hub Island into eternal sorrow,pain,and darkness.
Dennis
Atomic Betty
Strawberry Shortcake
Robbie Shippton
Yawp and Dander
Lucky
Twilight Sparkle
Rex
Unicorn
Komodo
Sasquatch
Mouse
Blythe Baxter
Zoe Trent
Minka Mark
Pepper Clark
Penny Ling
Sunil Nevela
Vinnie Terrio
Buttercream Sundae
Buster Bunny
Babs Bunny
Plucky Duck
Hampton G. Pig
Fifi La Fume
Pinkie Pie
Fluttershy
Rarity
Applejack
Rainbow Dash
Spike
Jasmine
Barda