Rex is a green dinosaur. His enhanced ability is mechana-strong. Often, when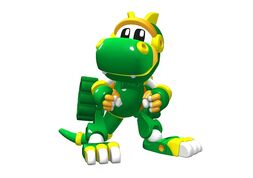 utilizing this ability, Unicorn refers to him as being "strong like a titanium Tyrannosaurus" which, along with his name and bipedal shape, would indicate that he is a robotic Tyrannosaurus Rex. He is the leader of the animal mechanicals when they are on their journey to their mission. When he transforms, he becomes a cross between a forklift, a tractor, and a digger.Sometimes,Rex always does silly things when it comes to food and he has a little crush on Unicorn.
Like Applejack,Rex possesses the element of honesty.
Lief
Dennis
Betty Barrett
Strawberry Shortcake
Robbie Shippton
Yawp and Dander
Lucky
Twilight Sparkle
Blythe Baxter
SheZow
Komodo
Unicorn
Sasquatch
Mouse