Yawp is a dog from The Twisted Whiskers Show. He's identified by his cute blue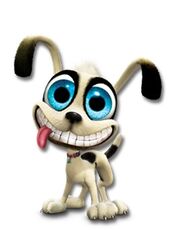 eyes and spunkiness.
Personality
Edit
Yawp is mostly scene with his pal Dander on the continuing adventure of trying to find a way back home after going on a camping trip.
Yawp and Dander both represent the element of humor when they make a gloomy gatekeeper who was guarding a gate to the Elements of Teamwork Tower laugh.
Lief
Dennis
Strawberry Shortcake
Robbie Shippton
Dander
Lucky
Twilight Sparkle
Rex
Unicorn
Komodo
Mouse
Sasquatch
Buster Bunny
Wakko Warner
SheZow